This week wasn't too overly exciting I must say - except for date night Monday night (which was amazing, and so much fun!!)
I worked most the week, and didn't feel so 100% for most of it either - I was having troubles sleeping, and so I was pretty tired and simply 'blah'. But Thursday came around and I felt a lot better so I did a major clean of the apartment, as I was neglecting it during the 'blah-ness'. Also I just got back from a run (I have today off...) and will be doing some painting on my Map Project, and maybe a little bit of laundry while I want for James to head this way sometime early afternoon :D
The big thing this week, is that I decided to give
PanPastels
a try!
Well, not a try *yet*
...they are in the mail coming to me. They initially, sort of remind me of
makeup
...yes, makeup. From what I've been able to read up / youtube about them on the internet, they are very highly pigmented and go on with sponge 'soft tool' applicators -
like makeup!
These have been around for a couple years, but it wasn't until stumbling across other artists using them that I was able to see their potential when mixed with paints.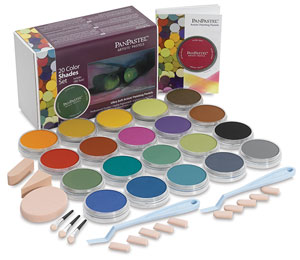 After reading
Donna Downey's blog
for months, and seeing these PanPastels keep popping up - and seeing the cool effects she could make with them I just
had
to give them a try. Even in a
post today,
she's using them! I can't wait to get them and share them with you - I think they will definitely make my mixed media work a lot more interesting, and who knows...maybe I'll be watercolour artist
turned
pastel artist? You know, it only take the right media to swing someone in another way.